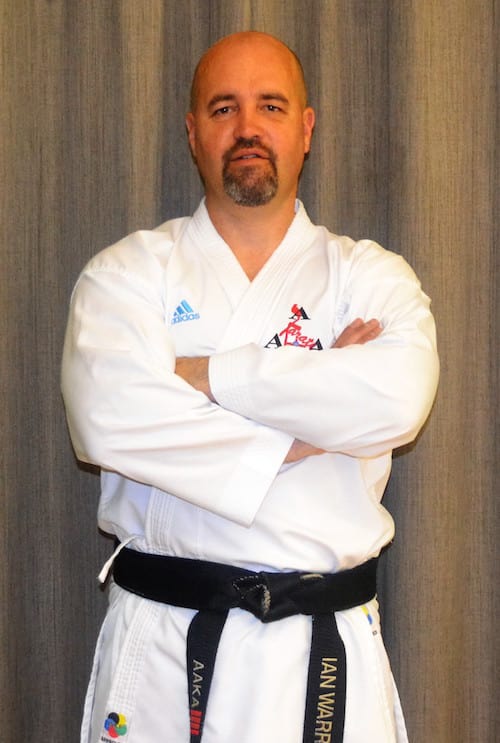 Ian Warren
I first started Karate at the age of 24. Being persuaded by my cousin Neil to go along to a class with him after his brother in law, who had already been attending the sessions for a little while had convinced Neil he should give it a go! At the time Neil and myself were both into weight training and Neil being just over six-foot-tall and almost as wide, me the short five foot seven and three quarter chunky side kick, thinking what did we need to learn to dance around in our pyjamas for? As that was our impression of Karate. Any way we decided to give it a go and went along for our first class.
All I can say is we were really lucky that we attended the classes of Sensei Ian Cuthbert. Probably one of the best instructors in England and definitely the best competition karate coach in the United Kingdom. I only mention this as we went through the class which started with a light warm up followed by some basics then finished with some "light " sparring. We borrowed some hand pads and were asked to line up, lower grades one side, higher grades on the other. I looked across the room at the line of Black Belts none of them particularly big some quite tall but not heavy set and thought this is going to be easy, I'm a lot bigger than you! We were asked to pair up, one of the black belts made a bee line for me another for Neil. We bowed as was the etiquette and began. I tried to copy the way my opponent was moving and holding their hands and moved in to land my first punch. After that, all I remember was looking up at the ceiling and being punched after only just hitting the floor. My opponent helped me up and we carried on I couldn't get anywhere near him. If I moved in he slipped off to the side and hit me, he hit me as I was moving in, he hit me as I was moving away. He never hurt me and only hit me fast enough and hard enough to get his punches and kicks in. My next opponent was a young girl of about sixteen only slight in build and a tiny bit shorter than me. I was worried about hurting her! Well no sooner than hajime (begin) had been called she must have punched me three times and kicked me twice before I even had time to move, she was like lightning and I was hooked!
After that I very rarely missed a lesson, practiced every chance I got. As soon as I got my yellow belt asked if I could do double sessions, even though the second session was for higher grades only, started attending the National Squad training sessions which were held every couple of weeks and our own in house squad sessions every two weeks. I went from training once a week to three or four times a week in just over a couple of months. From Yellow belt I attended every competition I could from club competitions to National level, eventually making my way on to the Shikon squad team. I came second on a few occasions but never actually winning a competition until 2014 when I took first place in the Vets . section in a National competition almost 20 years after my first competition! After gaining my 1st Dan I started teaching almost straight away having been assisting in classes prior to that. We now have 5 different locations with two of my original students (brothers, Ben & Tom Boulton) from those first classes still training and teaching with me. I still train with Sensei Ian Cuthbert from time to time and am still attending the squad sessions. I think that learning a martial art with the right instructor is as important as learning to swim, one day it could save your life, even if it is learning to walk away from a potentially hostile situation. Just because you can fight it doesn't mean you have to!